(scroll down for English)
Selon ces données de l'OFDT, les ventes de cigarettes reculent de 7,9 % en mars 2014 par rapport à mars 2013. La chute amorcée en 2013 semble se confirmer et s'accentuer. Le cumul janvier-mars 2014 représente une baisse de 8,9% par rapport à la même période en 2013.
Il en va de même pour le tabac à rouler, qui baisse 8,0% en mars 2014 ( -7,5% sur le cumul janvier-mars).
Les ventes de traitements pour l'arrêt du tabac continuent de chuter, de 42,8% en mars, -32,4% pour le cumul janvier-mars, les patchs étant les plus touchés (-56,5%), et les consultations en tabacologie ont accueilli moins de nouveaux patients, et le nombre d'appels à Tabac info service stagne.
Afin d'éclairer ces évolutions, l'OFDT rappelle les résultats de l'enquête ETINCEL sur la cigarette électronique, publiés en février 2014.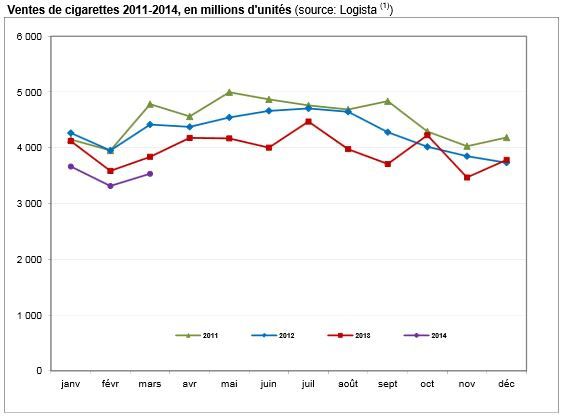 According to these OFDT data, cigarette sales felt by 7.9% in March 2014 compared to March 2013. The trends observed in 2013 seem to be confirmed and accentuated. The cumulative data for January-March 2014 represent a decrease of 8.9%.

A similar trend is observed for roll-your-own tobacco, which decreased by 8.0% in March (-7.5% for January-March), compared to last year.

Sales of smoking cessation treatments continued to fall, -42.8% in March, -32.4% for January-March, patches being the most affected (-56.5​​%). Smoking cessation centers received also fewer new patients, and the number of calls to the quitline (Tabac info service) are stable.

To inform these developments, the OFDT points to the results of the ETINCEL survey on electronic cigarettes, published in February 2014.